Don't pray harder. Pray smarter!
God needs intercessors! He is looking for intercessors to stand in the gap. The problem is, when He releases the call to prayer, many intercessors are too weary, worn out, or burned-out to respond.
God never intended prayer to become a staggering weight. And it is not His desire to see you so frustrated and fatigued that you can't even enjoy the life He gave you. If you're reading this and you are an intercessor who knows what it's like to struggle under a burden of prayer, or a prayer warrior who knows what it feels like to fight tired, or the go-to prayer person that everyone else relies on to "get a prayer through," help has arrived!
GOD WANTS HIS INTERCESSORS BACK! Churches have taken them. Ministries have taken them. People have taken them. The enemy has taken them. Weariness has taken them, and He wants them back. SHARPEN YOUR AX is an apostolic and prophetic clarion call to action for every intercessor. In it, you will find strategies revealed by God to refresh, regroup, and retrain His intercessors for what He wants to do next. As you employ these strategies, you will find wisdom that will bring success to your ministry of intercession and personal relief to you.
"If the ax is dull, and one does not sharpen the edge, then he must use more strength; but wisdom brings success." ―Ecclesiastes 10:10
SHARPEN YOUR AX
The Intercessor's Guide to Avoiding Burnout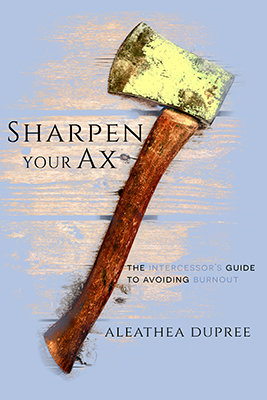 Sharpen Your Ax
Intercessors Network
Fellowship with others who are involved in the ministry of prayer. Share your successes and failures so that others can learn from what works and avoid traps designed to drain their prayer lives.  Incorporate what you learn from the Sharpen Your Ax book into your prayer life. And then train others to do the same. Join us now in the Sharpen Your Ax Intercessor's Network Facebook Group or click below for more info.
Sharpen Your Ax Prayer Clinic
Refresh. Regroup. Retrain.
If you would like information on hosting a Sharpen Your Ax Prayer Clinic in your area, please click here and indicate your interest on the SYA Intercessors Network registration form, or use the "I'm Interested" button to email directly.
 Other Ways to Get Involved
Leave a review on Amazon.com.
Tell others about the book.
Share what you've learned with others who are involved in the ministry of prayer; discuss the content; train others.